Gemstone Collections
It is generally believed that the supernatural rays of the planets by their cosmic forces control and modulate our life. The assigned Gems are supposed to convert the supernatural energy emanating from the planets into harmonious forces to boost the power and energy of the wearer. However, this belief does not seem to find any scientific basis.

Rationally speaking, Gems in themselves may not have any magical powers to change or modify one's destiny. However, the relief seems to come from Dharma Shastra, which prescribes Mani (gems), Mantra (verses) and Oushada (God) as the remedial means to redeem from Poorava Karma.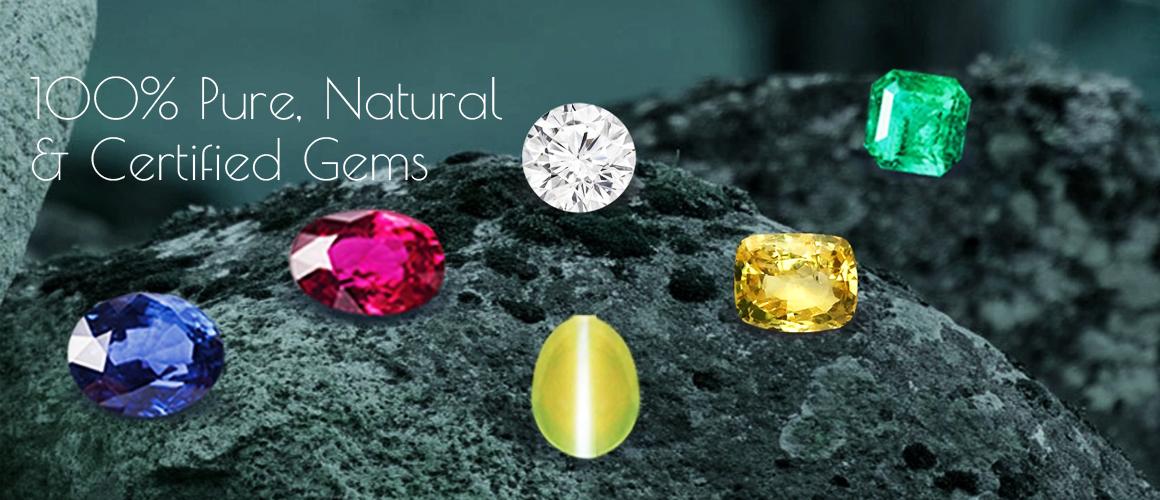 We sell Natural Precious & Semiprecious Gemstones only. Our stones give very high energy for Astrological uses. Our all stones are certified by Govt. of India's recognized gem testing laboratory. We also make custom designed Gemstone Rings, Bracelet, Pendants etc in Gold, Silver, Panch Dhatu on our customer's requirement.

Our products like Tourmaline Stone, Garnet Stone, Aquamarine Stone, Sunela Stone, Blue Topaz Stone, Smoky Quartz Stone, Cat's eye Stone, Opal Stone, Blue Sapphire Stone, Yellow Sapphire Stone, Red Coral, Amethyst Stone, Turquoise Stone (Firoza Stone), Emerald Stone, Ruby Stone, Peridot Stone, Lemon Quartz Stone, Natural Pearl and many more precious and semi precious gemstone.

We provide people with astrologically compatible and beautifully crafted natural gem Stones at a affotable price. To help our clients improve their business and quality of life with genuine precious stones chosen based on the Vedic chart. We wish to spread awareness among people on the power of gems. To bring in consistently natural, high-quality clean gemstones for our customers.